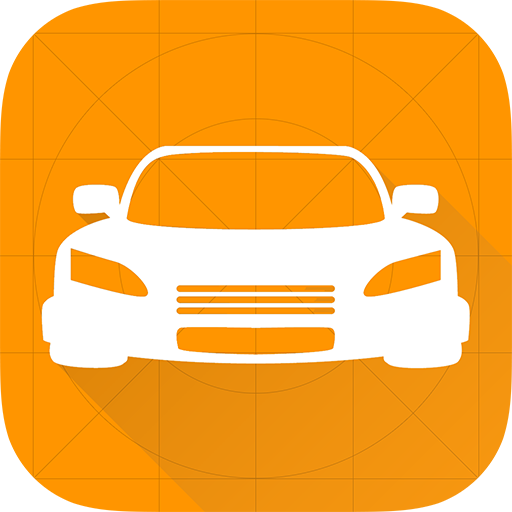 Free
Driving Theory Test Genius UK
DOWNLOAD
In short
Driving Theory Test Genius UK is a free Android driving theory app developed by Elegant E-Learning. This app is recommended for learners and experienced drivers. This is a good app to get complete idea.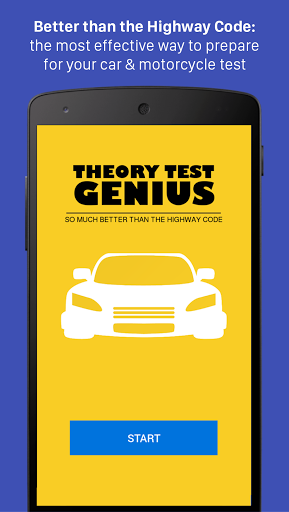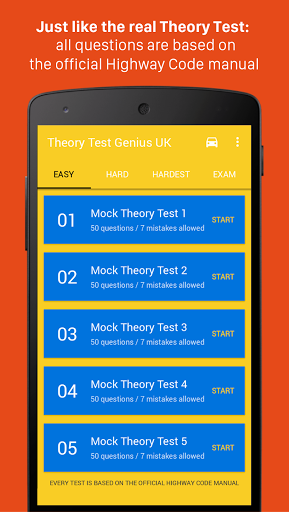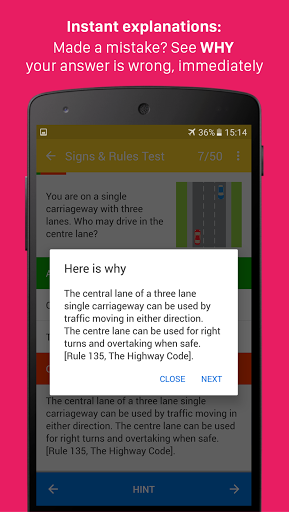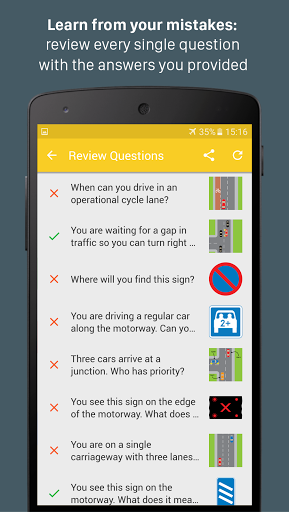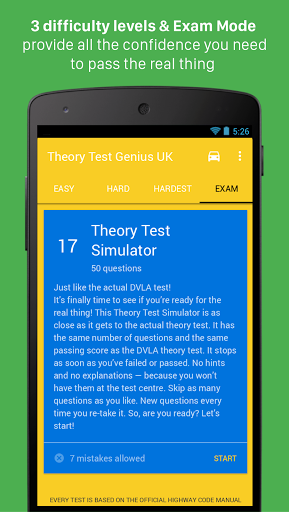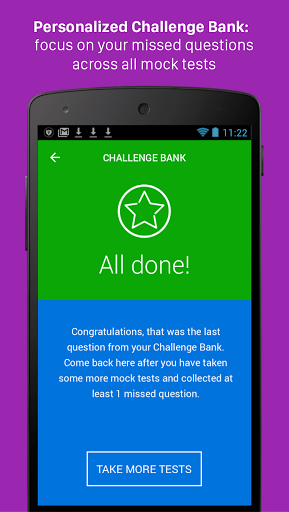 Highlights
This is a great way to practice for your theory test
The guidelines of passing each practice test are extremely helpful
Really helped with my theory knowledge
It really helps you memorise and internalise the highway code
Good way to get to grips with driving theory
Really helpful I passed first time with a 47 pass thanks
Best driving theory app I've found
I learnt most of my theory knowledge here
Love how there are different levels on the practice test
Oh and the challenge bank is amaizing
My fault for not even picking up the book of high way code lol
Even if i do keep getting the same questions wrong
Too many advertisements
Do not waste time with other expensive apps
Description
With Theory Test Genius, you'll be prepared. Download right now, be ready to ace your DVLA theory test tomorrow. Based on the official 2017 Highway Code Manual issued by DVSA (The Driver and Vehicles Standards Agency) and past driving theory test revision questions. You'll be surprised how close the app is to the real thing! NO SURPRISES AT THE THEORY TEST CENTRE: Get ready for your 2017 UK theory test with 725 questions written based on the official Highway Code manual. Our users swear that most of the questions on the real DVLA test are very similar (often identical) to those Theory Test Genius offers. You'll know exactly what to expect since our mock tests have the same scoring system as the actual DVLA theory test, too. WHY USE THEORY TEST GENIUS UK? • Realistic: just like the actual DVLA car or motorcycle driving theory test, our mock tests are based on the official 2017 Highway Code manual issued by DVSA • Smart hints: these help with tricky questions and steer you in the right direction • Detailed explanations: when you make a mistake, the app tells you straight away if a question is wrong and why. There is a reference to the exact chapter in the driving manual. You understand and remember every wrong answer • Difficulty Levels: from Easy to Exam • Works offline: no internet connection needed • Your personalised Challenge Bank to work on the most complicated questions across all mock tests • New questions every time: to keep you on your toes, we randomise questions and answers each time you restart a mock theory test • Review every question: learn from your mistakes • No registration required • Ask an Expert: live support from real people. Go to Settings Ask an Expert HOW TO USE THIS APP MOST EFFECTIVELY: There are several difficulty levels you can choose from. You can take the mock tests in any particular order, but most users go from Easy to Exam Mode. For brushing up on a specific area of the Highway Code manual you can practise driving theory tests specifically for road signs, road rules, or fines & speed limits. There is also a Show Me Tell Me mock test (you'll need it before your actual driving test). Visit your Challenge Bank (Hardest tab) to work on the questions you have missed. WHAT IS THE EXAM MODE? Our Exam Mode Theory Test Simulator is as close as it gets to the actual DVLA theory test experience. • Same number of questions as the real thing • Stops as soon as you have reached passing or failing score • Skip as many questions as you like. WANT TO TALK TO THE DEVELOPERS? To ask us a question, go to Settings Send feedback or swipe down on any test page with two fingers. We're online most of the time, and we respond to each user personally. To report a bug or a question-specific typo/mistake, go to Settings Report a mistake. You can also email us at toptestscouk@gmail.com. We're always happy to help!
More