In short
FNAF Songs 1234 is a free Android app from Freednic Music Studio.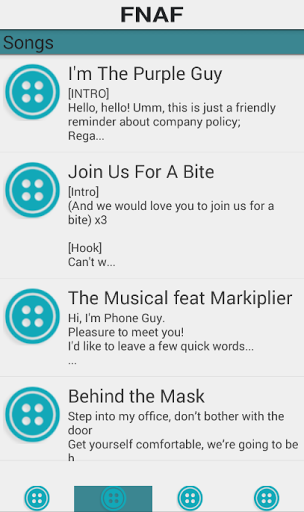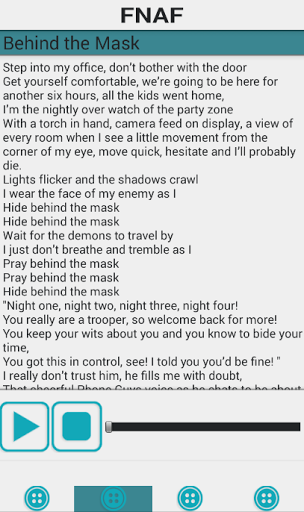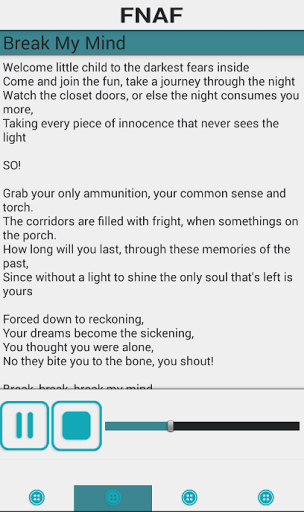 Highlights
Fav is break my mind funniest is the one with markiplier
This is cool it has the lyrics on it and it plays the FNAF songs
This is the best app I've had for music so far
Three Has ALL my Favorite FNAF Songs
I love the request system
But thank you so much very good app
LOVED IT SO MUCH My favorite songs are in here'hide behind the mask
JT Machinima and other YouTubers are here
OMG I love this so much please make a Melanie Martinez one
Join us for a bite Is my favorite song in the world
So such a dush itt doesn't even work it only move side by side
It doesnt work it stays on the ''i love music screen'' plz fix it
It does not play music or any thing it's just a white screen
Noooooooooo there's no I got no time AND NONE OF MY FAVORITE SONGS
It said on phone and tablet that it was a incapable divide
It was the stupidest thing ever
Description
FNAF songs is an application that provides all the music FNAF. Besides song lyrics available that can be used to sing. FNAF songs you like the most? Note: FNAF songs does not have the download function for copyright reasons. This application is made by a fan and have nothing to do with the artist and all copyrights.
More